San Antonio Spurs News
Golden State Warriors TV Announcers Calls Spurs Fans 'Jerk Offs' During Broadcast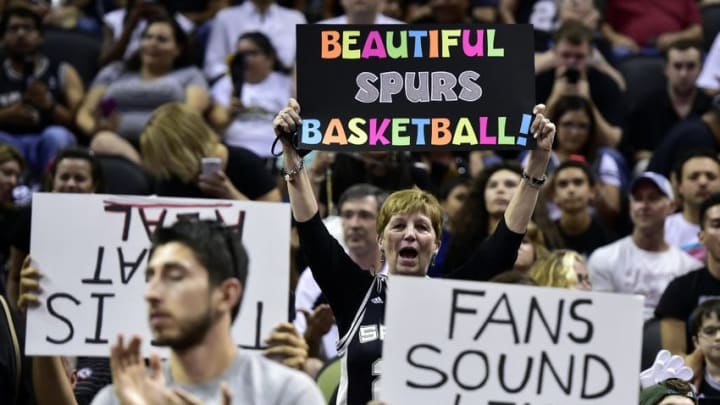 Jun 15, 2014; San Antonio, TX, USA; Fans hold up signs before game five of the 2014 NBA Finals between the San Antonio Spurs and the Miami Heat at AT&T Center. Mandatory Credit: Bob Donnan-USA TODAY Sports /
During the San Antonio Spurs and Golden State Warriors game on Sunday, the Warriors broadcast team did the unthinkable on live television calling Spurs fans 'jerk offs' during their on-air appearance during halftime.
Overtime the Spurs and Warriors met this season, it was dubbed as the biggest game of the year. Both teams are on an extraordinary run. With the Warriors chasing a feat of their own to the Spurs trying to remain perfect at home, things tend to get heated on the court and even off. That is when this happened.
some what fans? pic.twitter.com/JZEsCJ4F0i
— Kenny Ducey (@KennyDucey) April 11, 2016
No audio inserting there. You can clearly hear what the announcer, Bob Fitzgerald stated. Clearly he couldn't take the heat that was happening behind him. If you cannot block out comments behind you and concentrate on the job at hand, then this probably is not the right job for you as you are right on top of fans.
Sure fans can get out of hand. That shows how passionate they are about their teams. Knowing there is a TV camera right in front of their faces they are going to do some outlandish things to get their few seconds of fame. But, does that warrant Fitzgerald for the name calling?
Lets hear it Spurs fans. What are your thoughts on the comments given by Fitzgerald?
(H/T Jeff Garcia, SpursZone)