San Antonio Spurs News
San Antonio Spurs Pass '95-95 Bulls For Best Home Start In NBA History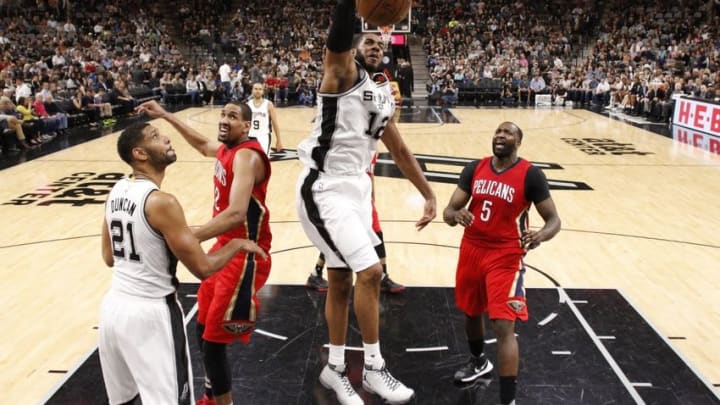 Mar 30, 2016; San Antonio, TX, USA; San Antonio Spurs power forward LaMarcus Aldridge (12) dunks the ball as New Orleans Pelicans center Kendrick Perkins (5) looks on during the second half at AT&T Center. The Spurs won 100-92. Mandatory Credit: Soobum Im-USA TODAY Sports /
The San Antonio Spurs set the NBA record with their 38th straight home victory to open the season.
"It doesn't mean anything. Absolutely nothing. Maybe a cup of coffee, maybe". — Popovich on Spurs 38 straight wins at home
With all eyes set on the Golden State Warriors and their quest of also besting the same Bulls squad with the most wins in an NBA season, the Spurs in their own right continue to add more accolades to their historic season.
After their 100-92 win over the unmanned New Orleans Pelicans on Wednesday, Spurs head coach Gregg Popovich stated how he felt of the accomplishment. "It doesn't mean anything. Absolutely nothing. Maybe a cup of coffee, maybe."
In classic Popovich fashion, he down played the teams accomplishment. Deep down you have to think that he is nodding his head in agreement about what they are doing. All in all, the main goal at the top of their board is bringing another title to the Alamo City, which will be their sixth.
Manu Ginobili scored 20 points and the Spurs beat the injury-depleted Pelicans Wednesday night to win their 47th straight home game overall dating to last season. Kawhi Leonard back from a quad injury looked in rare form as he finished with 16 points in just 22 minutes of play. Popovich liked what he saw
Mar 30, 2016; San Antonio, TX, USA; San Antonio Spurs small forward Kawhi Leonard (2) steals the ball from New Orleans Pelicans forward James Ennis (4) during the first half at AT&T Center. Mandatory Credit: Soobum Im-USA TODAY Sports
from the Spurs All-Star. "He looked like he hadn't missed a beat. He's ready to go, we just limited his minutes tonight to make sure that everything's OK. He'll probably get back to normal on Saturday, minutes-wise I mean."
Just as blunt as their head coach is, Tony Parker also didn't celebrate the accolade. "It doesn't matter to me. No. Championship (is all that matters)."
San Antonio topped the 37-0 start by the Chicago Bulls during their record 72-victory season in 1995-96. The Spurs are 63-12, matching the franchise record for victories set in 2005-06.