San Antonio Spurs News
Houston Rockets vs San Antonio Spurs: Game Preview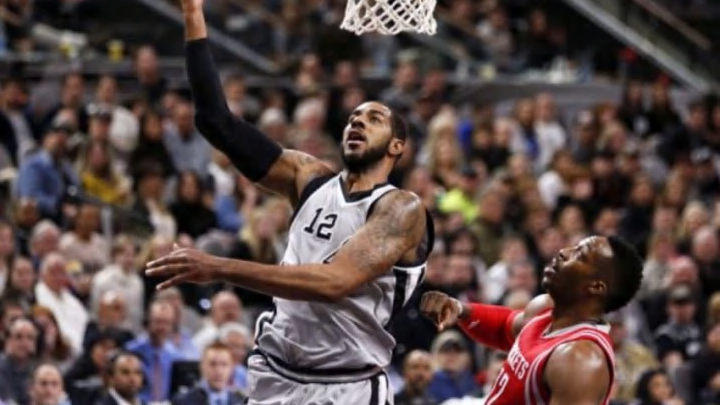 Jan 2, 2016; San Antonio, TX, USA; San Antonio Spurs power forward LaMarcus Aldridge (12) shoots the ball past Houston Rockets center Dwight Howard (12) during the first half at AT&T Center. Mandatory Credit: Soobum Im-USA TODAY Sports /
The San Antonio Spurs look to start another winning-streak as in-state rival Houston Rockets come into the AT&T Center Wednesday.
After their 30-point thrashing by the hands of the Golden State Warriors, the Spurs did not sugar coat the loss. They knew they were outplayed, they were not as prepared for this game as the Warriors were.
Coach Gregg Popovich called it "men among boys," but the Spurs aren't dwelling on having their winning streak snapped. It was their first loss in eight games this season without Duncan, who also won't play Wednesday.
Tim Duncan missed the teams 'anticipated' match-up against the Warriors because of right-knee soreness, but the Spurs (38-7) are not making any excuses. The Spurs flat out played bad. Turnovers haunted them through-out the game. With eight in the first quarter alone, the team ended with 26 and the Warriors took advantage.
Manu Ginobili stated it perfectly when talking about the loss. "It's the (45th) game of the season. It's not like we're eliminated. We got our butts kicked, that's for sure. We need to be thinking more about Houston."
Jan 2, 2016; San Antonio, TX, USA; San Antonio Spurs small forward Kawhi Leonard (center) looks to pass the ball under the basket as Houston Rockets center Dwight Howard (L) and Clint Capela (R) defend during the second half at AT&T Center. Mandatory Credit: Soobum Im-USA TODAY Sports
The Spurs had won 20 of their previous 21, with the only defeat in that stretch an 88-84 loss at Houston on Dec. 25. They avenged that defeat Jan. 2, getting 24 points from LaMarcus Aldridge and 22 from Kawhi Leonard in a 121-103 home victory.
Dwight Howard had a double-double in each of those matchups for the Rockets (25-22) and finished with one in each of the 10 games he played prior to sitting out the last three because of a sprained left ankle — Howard is questionable for Wednesday's match-up.
Houston (25-22) has shown they came win without their man in the middle. Trevor Ariza has taken a more active role with Howard out and is averaging 26.3 points while shooting 60.9 percent, including 19 of 31 from 3-point range.
Ariza had 29 points in Sunday's win over Dallas before scoring a season-high 31 and hitting eight of Houston's season-high 19 3s against the Pelicans. He averaged 11.3 points and shot 39.5 percent from the field over his first 43 games.
San Antonio has won three of the last four meetings after Houston won the previous six. Spurs are 24-0 at the AT&T Center this season. This match-up is the first of a double-header on ESPN. Tip is scheduled for 8:00 PM EST.